Dear friends,
Here's a cute and fluffy Young-Adult story that will make you smile: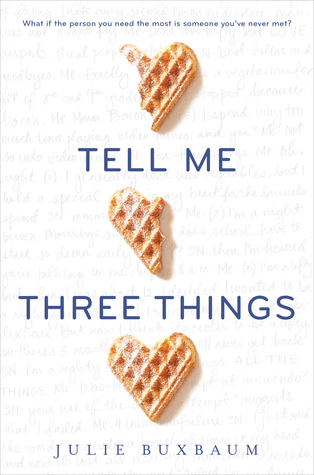 Tell Me Three Things is the story of Jessie, a high school student.  Her mom has recently passed away, her dad has remarried, and she finds herself living in a new town under the roof of a stepmother she doesn't understand, and a stepbrother she doesn't like.  On top of all these life changes, she is trying to get used to a new school with its usual contingent of "mean girls."
It's tough being friendless, but one day Jessie receives a message online from someone calling himself "Somebody/Nobody" (thereafter referred to as "S/N.")  S/N reveals himself to be a boy from her school, but wants to remain anonymous.  He says he's writing because he knows she's new and struggling to fit in, and he wanted to reach out and offer friendship and advice – if there's anything Jessie wants to know about the social landscape at school, S/N would be happy to tell her.
At first Jessie is skeptical (could S/N be one of the "mean girls" playing a trick on her?), but her feelings of loneliness and isolation eventually drive her to respond.  In time, Jessie and S/N begin playing a game of "tell me three things" – you tell me three things about yourself, and I'll tell you three things about me.  Sometimes these things are trivial (favorite foods or music), and sometimes they're deeply personal.
Jessie spends most of the story trying to guess the identity of S/N, as there are a number of likely candidates.  Eventually they meet in person, so Jessie (and you, the reader) discover who he really is.
I figured out S/N's identity pretty early, but it was still fun to see his relationship with Jessie unfold through their back-and-forth messages, and to see her try to solve the mystery.
Cute and fun, recommended for a light and enjoyable read.
Blessings,
Annette